When you are looking for house properties during the fall, there are a number of advantages which you can't find on any other season. These might include the buyer traffic which is low in this season, the sellers might be willing to drop prices, and your realtor might have more time for you, among others. However, don't be vulnerable when choosing a home too quickly. There are a number of things that you have to keep in mind to end up with a property that suits well for you and your family. Take a look at the following:
Get pre-approved
Based on your income and debts, your lender will quote you a price limit that you can afford. These are considered as effective formulas to handle your finances so that you won't be house-rich but cash-poor.
Select the right size for your home, not the biggest
With a big house, it is also expected that you'll have more operating costs on heating, cooling and maintaining the space. All of these are additional expenses for you. That's why opting for the biggest home is not always a good idea.
Consider your activities
Beforehand, you have to think on how you actually use the home. For example, do you need a space for home office or art studio? Or you want an impressive kitchen because you cook most of the time?
Take into account the commute
There are a lot of nice homes with great amenities, but they are far from the city centers. Also consider your travel in going to your job every day or your kids' distance in going to school.
Look at the bones of the home
There are a lot of aspects in your home that you can update later on like wall colours, flooring, etc. But there's one thing that should go well for you and that is the basic floor plan. Before buying the property, take a look at the traffic flow of the house like if you have a pet, can you easily clean its mess when it comes in. Or where do the kids put their backpacks when they come home from school?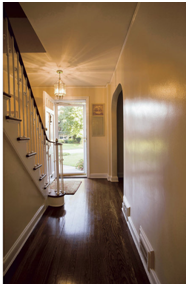 Ensure that you'll have those year-round amenities
You may be buying that particular property during the fall season but you to consider those amenities that you should have during other seasons like will you be able to garden, swim, or entertain outdoors with this property? Find it out beforehand.